Book-inspired tree blooms in elementary office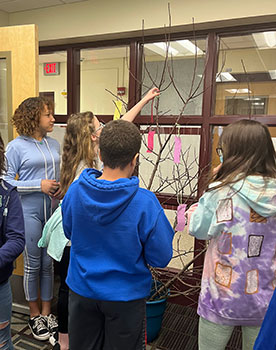 There's a tree in the main office at Harry Hoag School that is rooted in kindness and blooming with wishes.
Amanda Faitell's and Eileen Kretser's 5th grade guided reading students are enjoying the book "Wishtree" by Katherine Applegate. The story is narrated by Red, a large, ancient red oak tree who lives near an elementary school. Red, who observes all that goes on in the neighborhood, serves as a "wish tree," where people can leave their wishes to be fulfilled. Red's own wish is for kindness and understanding to prevail.
On the branches of Harry Hoag's own tree, wishes of all kinds have been sprouting over the past few weeks, written on colorful paper tags. The wishes, which are all anonymous, are touching, telling, and, most importantly, full of kindness and compassion.
Some wishes are for pets or toys, others are for love, respect and acceptance, and yet others wish to see family members who have passed away. There are wishes to adopt all of the cats in town, play in the NFL and become rich, to have gas and food be less expensive, to get along with siblings, and even to have dinosaurs be alive again.
"The book 'Wishtree' inspired me to put up a wish tree for everyone – students and staff – to make wishes on," said Kretser. "Wish trees are typically done in May. We provided wish tags in the main office and posted information about the wish tree on the office windows near the tree, and the wishes have been coming in.
"We hope all will be inspired to add wishes to our school tree."