Anthony Paradiso inducted into National Football Foundation Hall of Fame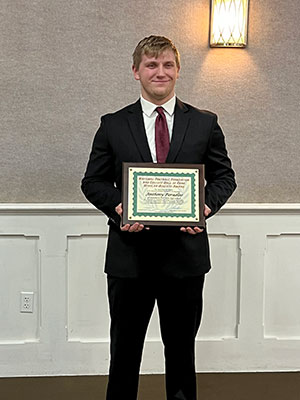 Anthony Paradiso, an FPHS senior and member of the Canajoharie-Fort Plain football team, has been inducted into the National Football Foundation and College Hall of Fame, Capital District Chapter, a first for Fort Plain.
Anthony received his Hall of Fame Scholar-Athlete Award at the Hall of Fame's 34th Annual Awards Dinner at the Polish Community Center in Albany on Sunday, March 12.
The following is inscribed on Anthony's award plaque: "The Capital District Chapter of the National Football Foundation grants Anthony Paradiso of Canajoharie-Fort Plain High Schools this certificate in recognition of being voted as outstanding in Academic Achievement, School & Community Leadership, and football performance, in the territory of this chapter."
Anthony is an accomplished student-athlete who's involved in many activities at school. His football days go back to his younger years. "I started playing football in 4th grade with Canajoharie Youth Football with Coach Kevin Suits and Brian Congdon," Anthony said.
"In school I also play baseball. On my own, I do a lot of bowling in Junior Leagues/Tournaments, and I have played travel baseball in the past. I have also joined my sister in volleyball leagues/events during the summer." [Anthony's sister, Sarah, is a Class of 2021 alumna and who signed with Keuka College.]
As for academics, Anthony's favorite subjects are math and science. At FPHS, he serves as Class Vice President and is involved in SADD, Student Council, Drama Club, National Honor Society and Yearbook Committee.
After graduation, Anthony plans to attend Lasell University in Newton, MA, to study Athletic Training/Exercise Science.
While the college gridiron is not in his future plans, Anthony will always enjoy football and other sports. "Unfortunately, due to the course load and sports offered by the school, furthering my athletic career in football is not possible, however, I do plan to stay around the sport of football with the help of my career and love for the game.
"As for other sports, right now, I am not committed to furthering my athletic career, however, I will still continue to stay active in the sports I love as best possible and even try other sports through intramurals and clubs, like volleyball."
Anthony's mom, Stephanie Paradiso, co-teaches second grade at Harry Hoag School. "Each school in Section II is given the opportunity to nominate one student for the National Football Hall of Fame honor, based not only on their work on the football field over the years, but also their achievements in and out of the classroom," she said.
"Not only did Anthony receive this honor, but it is extra special because he is the first student from Fort Plain to ever receive it! Anthony received a beautiful plaque and a shirt. His name will also be put on the wall in the College Hall of Fame in Georgia for the next year!"
In addition to being honored for football, Anthony was recently named a Bowling First Team All-Star by the Western Athletic Conference.
Congratulations Anthony!