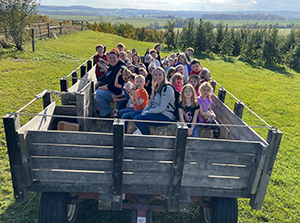 Throughout the school year, a host of fun field trips and enrichment activities help deepen our students' learning. These hands-on and multi-sensory (learning with all the senses) experiences help bring classroom lessons to life… and may even inspire a passion or future career path!
Here are just a few fun examples of the enriched learning happening for students this fall:
Kindergarteners recently donned their own helmets and climbed aboard a big red Fort Plain fire truck to learn about fire safety and the important job firefighters play in our community. This annual visit from the fire company helped mark Fire Safety Awareness Month and is just one of many ways our first responders and community helpers expand students' learning throughout the year.
Fall wouldn't be the same without a trip to the orchard for apples and a wagon ride. After learning about the season and how apples grow, first graders visited Bellinger's Apple Orchard for some apple picking, tasting and lots of other seasonal fun.
The sweet smell of pumpkin spice filled the air as learners in our third-grade classrooms made (and got to sample!) fresh butter, pumpkin pie and homemade whipped cream. Thank you educator Wendy Richardson and the Cornell Cooperative Extension/Herkimer County for leading us in this fun and delicious culinary exploration.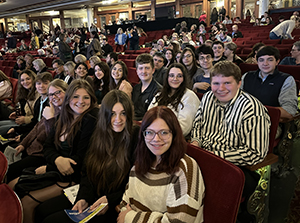 Meanwhile at the high school, youth participating in the OK2XL gifted and talented program shared lots of laughs and took in the beauty of the historic Proctors Theatre in Schenectady while watching the stage production of Mrs. Doubtfire. "This was a cool opportunity for students who would not otherwise get to see these shows," said High School Junior Jasmine Lapi. "It is important for students to be exposed to these cultural events." District and grant funding makes these and other types of dance, music, drama, media and visual arts experiences a possibility for students across the grades, in and outside of our classrooms.
We are so grateful for our many community partners, educators and area venues that help expand our students' learning and help them grow in new and creative ways by sharing their knowledge and expertise.
Post navigation