Creating a Trauma Sensitive Classroom and Rationale

The goal of the Academic Coaching Center (ACC) is to help students, who may be dealing with a variety of difficult experiences, succeed.
This non-traditional classroom is designed to create a calm place for students. Students will feel safe and secure in these surroundings. This environment helps students focus and complete goals they set for themselves.
Many children experience stress in their lives. This makes it difficult for them to learn. According to research, children who experience one or more traumatic events, may struggle in school and those struggles can deepen over time.
We cannot control stress and trauma at home or elsewhere, but the ACC was created to be safe, calm, and trauma-sensitive at school. Students can learn and grow as individuals here.
Inside the ACC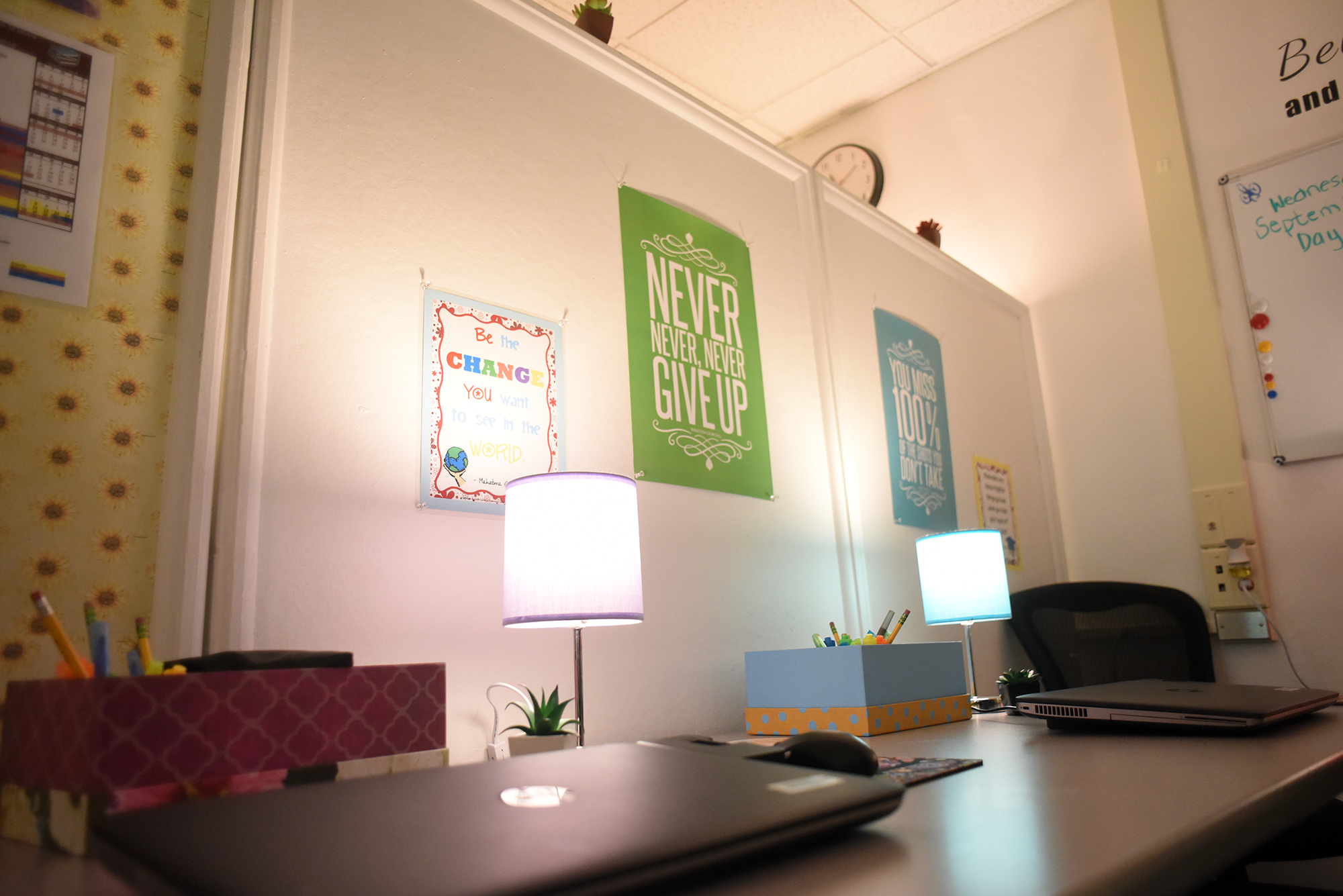 The ACC is located in the high school's basement with no windows. Instead of natural light, the ACC is filled with lamps to create soft, ambient light, instead of harsh florescent lights.
The ACC allows students to spread out and work as needed at tables and desks.
The walls are covered in motivational quotes and paintings of calming landscapes.
This classroom was designed based on research regarding lighting, calming colors, placement of furniture, uplifting and positive messages, and aesthetically pleasing visuals.
Sometimes children need some time to process their emotions in a safe and effective way.  Adult coloring books are always available to students, which are helpful in opening up avenues of discussion.
Research that drives the ACC
One out of every 4 children attending school has been exposed to a traumatic event that can affect learning and/or behavior. (NCTSN: Child Trauma Toolkit for Educators 2008)
Trauma can impact school performance. Examples include: lower GPA, higher rate of school absences, increased drop-out, more suspensions and expulsions and decreased reading ability. (NCTSN: Child Trauma Toolkit for Educators 2008)
Trauma can impair learning. Single exposure to traumatic events may cause jumpiness, intrusive thoughts, interrupted sleep, moodiness and social withdrawal. Chronic exposure to traumatic events can adversely affect attention, memory and cognition; reduce a child's ability to focus and organize; interfere with problem solving and may result in feelings of frustration and anxiety. (NCTSN: Child Trauma Toolkit for Educators 2008)
Building a trauma sensitive environment is a never-ending, evolving and creative process that has the power to change the life of everyone involved.  Just as it takes a village to raise a child, it takes a committed and united trauma sensitive education system to provide the opportunity for wounded children to learn, heal and thrive.
A traumatic experience impacts the entire person—the way we think, learn, remember, the way we feel about ourselves, about other people, and the way that we make sense of the world… (NCTSN: Child Trauma Toolkit for Educators 2008)