The Fort Plain Central School District will provide each student with the opportunity to develop intellectually, socially, emotionally and physically in a safe, orderly and positive environment.
Our goal is to prepare every student for success beyond graduation.
Board of Education Goals
The Fort Plain CSD Board of Education has selected five priorities for growth in 2018-19.
Improve safety in our schools
Improve student learning outcomes
Build and maintain trusting relationships with students and their families
Support the development of every student's social and emotional developmental health
Ensure responsible and strategic use of fiscal and human resources to best support the needs of our students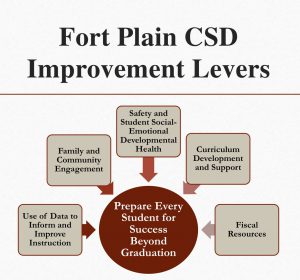 Goal 1: Ensure safety in our schools
Improve emergency evacuation procedures and protocols
Improve tracking of attendance on district bus runs
Progress update from District Team at October Board Meeting
Goal 2: Improve student learning outcomes
Each school team will develop an action plan to ensure periodic formative assessments and re-teaching activities are implemented that positively impact student learning in all classes
The District Special Education Department will conduct a needs assessment to identify specific areas for improvement that will be provided targeted professional development during the 2018-19 and 2019-20 school-years
Progress update from School Teams at January Board Meeting
Goal 3: Build and maintain trusting relationships with students and their families
Each School Team will design a measurable goal and action plan designed to build trusting relationships with students and families
Progress update from School Teams at February Board Meeting
Goal 4: Support the development of every student's social and emotional developmental health
Each School Team will design a measurable goal and action plan designed to support student social and emotional developmental health
Progress update from School Teams at December Board Meeting
Goal 5: Ensure responsible and strategic use of fiscal and human resources to best support the needs of our students
Plan capital project that does not impact local tax levy
Continue to reduce reliance on appropriated fund balance to reduce the Local Tax Levy
Progress update from District Team at October and November Board Meetings