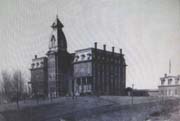 The date and location of the first school classroom to be opened in what is now the Fort Plain Central School District is probably lost to history. It may have been located in somebody's home or barn, in a church, in a fort, or in a one-room school-house. In his book "Fort Plain-Nelliston History," Nelson Greene mentions a school on Sand Hill existed in 1801.
What is known is that the first high school in Fort Plain opened in 1825, seven years before the village incorporated. It was a wooden structure on Division Street that educated about 50 students. In 1835, a brick building with a 100-student capacity was built on Mohawk Street. Students from both Fort Plain and from other communities along the Erie Canal attended the school, which charged tuition for students in grades 9-12. In the countryside, one-room schoolhouses became common wherever there was enough families close by to support them.
In 1853, the village school began to receive significant competition from the Fort Plain Seminary and Collegiate Institute, built on "Seminary Hill" up Clyde Street. The large brick building had accommodations for 350 boarders and 16 teachers. The name of the school is misleading. It was really part grade school, part high school, and part finishing school. Furnished board, room, and washing was $4.62 per week with fuel in winter an extra ten cents. Tuition per course in the early years varied from $3.37 to $6.37. There were three, 15-week terms, which began Aug. 1, Nov. 21, and March 7.
The Seminary was co-educational for much of its existence, with the Civil War years one exception due to a shortage of male students. Students from across Central New York attended the school, and several came from other states, sometimes from as far away as Texas. In the 1870s, the Institute entered upon hard financial times. When attendance dwindled to 50 students in 1878, the Seminary's trustees decided to close the school.
About that time, Clinton Liberal Institute, a school under patronage of the Universalist Church, was looking for a new home and, in 1879, took over the Seminary's building. An addition made CLI a six-story brick building. The finished basement contained a dining hall and art room; classrooms were on the first floor. Boys were in the north wing above the first floor with girls above the first floor in the south wing. CLI was really a combination high school and junior college, or college preparatory school that attracted students from across the Mohawk Valley and beyond. Many of its graduates went on to distinguished careers, including Simon Lake, inventor of the modern submarine. In 1882 a gym was constructed and in 1889 an armory was added behind the gym. Athletics were important at CLI with its teams sometimes playing against college teams in baseball and football. Nelliston's Bill Dahlen, who went on to a distinguished two-decade career in the National League, played baseball for CLI for one year.
With the rise of free public schools in the 1890s, CLI began to decline. Shortly before 1900, the boys section was converted to a military academy with plans to eliminate the girls section. CLI was destroyed by spectacular fire on March 25, 1900 and was not rebuilt.
1893-1949
While the CLI was in decline, public high schools were gaining popularity, especially those that did not require tuition payments. On March 18, 1893, the Fort Plain Free School District was formed when 339 people voted for the union of Fort Plain and Lockville schools with 219 people opposed. A newspaper article noted that many of the voters were women, unusual at that time. Ten students became the first graduates of the new district in 1895. Graduating classes in the early years were small, including two graduates in 1898. In the early 20th century, students from rural schools began to be allowed to attend Fort Plain High School.
By 1912, the school building on Mohawk Street was becoming overcrowded and in poor condition. Several of the lower grades were taught in the Hackney Block in the business district of the village. In 1914, the Mohawk Street school, overflowing with 400 students, was condemned by New York State as unhealthy. A new school would have to be built. A logical site was chosen: "Institute Hill," where Clinton Liberal Institute had been located. By the fall of 1915, the new school was open.
The first two decades of the century brought numerous changes in staffing and curriculum including the addition of agriculture, mechanical arts, homemaking, required physical education, expansion of business courses and others. Male teachers began to be hired for subjects such as agriculture. The men earned a higher salary than their women counterparts, who had to give up their jobs when they got married. Teachers were actually allowed five sick days per year with pay instead of having each day missed due to illness deducted from their monthly salary. Students no longer had to attend chapel.
By 1918, graduating classes started getting a little larger, with 13 students receiving diplomas that year. In 1921, the old school building was sold to the Masons. Attendance was about 500 students with about 20 teachers. As the decade progressed, new teachers for subjects such as vocal and instrumental music had to be hired. Kindergarten, which had been discontinued for some years, returned. To alleviate the space crunch, the district rented two rooms at the Masonic Temple (the old school building) for kindergarten and first grade. Moyer Hall was rented for athletic events. Because of the overcrowding, officials of District 14 (as the village school was called) considered consolidation with rural schools, but nothing came of it.
During the 1930s, transportation to the village school became available for rural students, enabling them to enjoy the expanded curriculum. In 1939, overcrowding was alleviated with a major addition to the school, doubling its size. Besides more classroom space, the addition included a gymnasium, stage for the auditorium, and a cafeteria. Until the cafeteria was built, most students walked home and back to school to eat lunch.
In 1940, Fort Plain had met state requirements and officially became a junior/senior high school or "six-year high school." More courses were added and a librarian and a guidance teacher hired. "This is a most interesting and worthy subject of modern education," a 1940 newspaper article said of the four guidance classes taught at the school. "The Fort Plain School and its work of today is second to none."
By the late 1940s, more and more rural students headed for the village school. There were still numerous rural school districts in the Fort Plain area, however: Nelliston, Keesler's Corners, Valley Brook, Wagner's Hollow, Walts district, Freysbush, Fordsbush, Dutchtown, East Stone Arabia, Stone Arabia (two districts), Hallsville, Frog City (Danube), Lenecker, Sand Hill, and Marshville (Canajoharie).
1949 to Present
By 1949, pressure for centralization was considerable. By 1951, 85% of school districts in New York State were centralized including those surrounding Fort Plain. On June 28 of that year, voters in 16 districts of Fort Plain and vicinity approved centralization. Some students continued to attend rural schools.
With new rural students and the first "baby boomers" coming of school age, it was clear to school officials that more space would be needed. On Sept. 5, 1952, voters gave approval for the purchase of 20.57 acres of land at the end of Clyde Street: 16.5 acres of farmland belonging to Diego Musso and Salvatore D'Arrigo with the rest owned by the Fort Plain Cemetery Association. Total cost of the land was $8,600.
In April 1953, ten rural schools (not including Nelliston) still educated 128 students in grades 1-6. The Nelliston School had about 80 students. Three classes were held at the Masonic Temple with two more ready to go there.
District residents went to the polls on June 28, 1953 to vote on construction of a 23-classroom elementary school at an estimated cost of $1.29 million. State aid covered $561,142 of that amount. The vote was 562-284 in favor of the project but, because a two-thirds majority was needed for approval, the proposition lost by two votes. There were 10 void ballots. After a second vote in July also failed to garner a two-thirds majority, the school board scaled back the project to $1.15 million, an amount that would only require a majority yes vote under state financing rules. On Sept. 11, voters approved the revised project by a margin of 720-439.
 Cornerstone of Fort Plain Elementary School was laid on Oct. 14, 1954. A metal box containing school-related items and other artifacts of the era was imbedded in it. About 620 students began attending the school in the fall of 1955. On Jan. 29, 1956, the school was formally dedicated. About 1,300 people attended the dedication in the gymnasium with 200 more in the hallways. It is likely the most people ever to attend an indoor event in Fort Plain.
Just five years after its opening, more space was needed at the elementary school. An addition in 1961 made it possible for students from the two remaining rural schools, Nelliston and Brookman's Corners to attend the central school from kindergarten onward. Both of those schools closed, with the Brookman's Corners school one of the last one-room schoolhouses in the state to close.
Expansion and improvements to both schools have continued over the past half century, due to expanding needs of students in the modern world. A 1981 building project brought renovations and energy conservation improvements to both schools. A wing dedicated to John E. Ridder, supervising principal of Fort Plain schools 1935-62, was added to the elementary school. The seventh grade was moved to this school.
Additions to both schools were built in 1986 and the elementary school was renamed to honor Harry Hoag, longtime and beloved custodian at the school. A vote to consolidate Fort Plain, St. Johnsville, and Canajoharie school districts in 1988 failed in all three districts.
In 1996, the junior/senior high school was almost completely renovated including a new gymnasium and library / media center. The seventh grade returned to the junior-senior high school.
 During the 1990s, like every other school district across the state, Fort Plain had to keep pace with technology, especially computer technology. Computer rooms were built and computers became commonplace in classrooms. A distance learning room was added. Other changes included an increased focus on special education, more testing required by New York State, more focus on teaching Spanish, and pre-kindergarten classes.
In February, 2008 voters approved a $17.2 million capital project, which included a new bus garage, numerous improvements to the elementary school, and an addition to the high school. Groundbreaking took place in the summer of 2009. The project was completed at the end of 2010.
In the first quarter of the 21st century and beyond, one thing is certain: education, curriculum, and facilities will continue to change the way they have over the course of more than two centuries of education in Fort Plain.