Third-Graders Enjoy Painting Class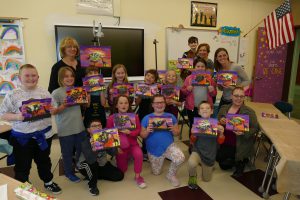 Mrs. Sweet's third-grade class had the marvelous opportunity to receive a professional painting lesson on Wednesday, May 15th. Kathy Canastar, from Little Falls, donated her time to come to teach our students. She has trained under Wilson Bickford, a well-known painter from Gouverneur, NY. Two other volunteers, Lois Scanlon & Jean Ronan, both artists who have both painted with Kathy, assisted the students.
The subject of the painting complemented the current topic in Reading & Science in Mrs. Sweet's class.
What fabulous products the students produced! Each a unique and beautiful sunset, with a tree & silhouette of a giraffe in the foreground. It was a fabulous opportunity, and all of the students
so enjoyed it!