Tech Club shines at 2018 Recyclable Boat Regatta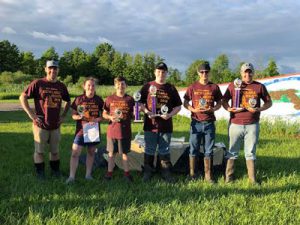 Three Fort Plain Technology Club teams again demonstrated their skill, grabbing several top honors in the 2018 Recyclable Boat Regatta at Pangea Puddle in Canajoharie on Wednesday, June 6.
The Regatta challenges teams of middle and high school students to build and sail people-powered boats made from recyclable materials. This year's competition included 17 teams from Fort Plain, Canajoharie, and OE-SJ schools.
Keith Burkhart and Austin Marx piloted their boat "Ding-e Jr." in a dominating fashion, finishing first. They earned the "Fastest Boat" award.
9th grader Jacob Fuhs designed and built "Pier Pressure 2." Together with Cameron Suits, they overcame an early race incident to finish the race. The boat earned the award for "Best Craftsmanship"
Middle schooler Tucker Jones built his boat and with help from Madeline Heroth paddled strongly to finish. This boat earned the award for "Best Overall Middle School Boat."
"The results again demonstrate that our Fort Plain students put an extreme amount of passion and hard work into this event and have a continued reputation for arriving as strong entries," said club adviser Kreig Heroth.
"These students are already excited and planning for next year!"