Students take up challenge to read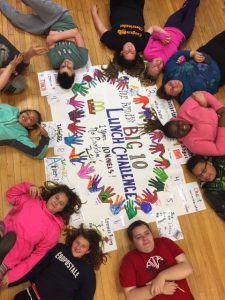 How do you convince students to read?
Junior/Senior High teachers Ted Arndt and Kevin Bogus found a great way. Last November, their class had read the first books in their immersive reading program. The class had done well, but Mr. Arndt wanted to  their exceptional work.
He challenged them saying, "If you keep up this pace, you're on track to read maybe 10 novels before the end of the year. Tell you what; if you make it, McDonalds is on me!"
That challenge paid off. On June 4th, the students who participated in the reading program and completed their tenth novel of the school year collected their reward. They enjoyed lunch from the Golden Arches.
The lessons students learned extended beyond getting a free lunch.
Ninth grader Amber Dillenbeck said, "I always thought that school was nothing. I thought it had no meaning. Now I understand why it is so important…and I am really proud!"
Mr. Bogus and Mr. Arndt share that pride.
"We are extremely proud of the students in this class and of all the hard work they put into 'turning the page' and accomplishing so much. Now, lets see if they can top this next year," they said.
The students read the following books during the 2017-18 school year:
"Freak the Mighty" by Rodman Philbrick
"Blackbriar" by William Sleator
"Agent Angus" by K.L. Donman
"Cheat" by Kristin Butcher
"Joey Pigza Swallowed the Key" by Jack Gantos
"Esperanza Rising" by Pam Munoz Ryan
"Loser" by Jerry Spinelli
"Wonder" by R. J. Palacio
"Hannah's Touch" by Laura Langston
"Bad Business" by Dianna Dakers