Students play on Unified Basketball Team at the New York State Special Olympics Summer Games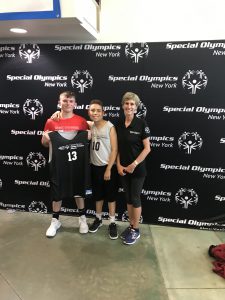 Isaiah Norton and Raul Rivera were selected from Fort Plain to participate in the New York State Special Olympics Summer Games by playing on the Unified Basketball team representing the Capital Region. The team was put together by Jess Verrigini, the coach of the Amsterdam Unified Basketball team.
On Friday, June 14, the team traveled to Vassar College in Dutchess County for the games. On Friday night, they attended the opening ceremonies where the Olympic torch was brought into the stadium to begin the games by the New York State Troopers. The torch run started in Buffalo and was carried by community members throughout the state.
Saturday, June 15, was competition day, and the team won a bronze medal.
"I had a lot of fun that weekend," Isaiah Norton said. "It was an experience I'll never forget. I made friends with a lot of athletes. Most of all, I am excited about next year."
Also joining Norton and Raul was Fort Plain's Jr./Sr. High School Teacher, Lisa Petty. Petty is a New York State Certified Special Olympic Coach.
"I thoroughly enjoyed the entire Special Olympic experience," Petty said.