Students helping students: Jr./Sr. High Schoolers pack food for Harry Hoag students
Students in Lisa Petty's Life Skills class at the Junior/Senior High School pack up bags once a week.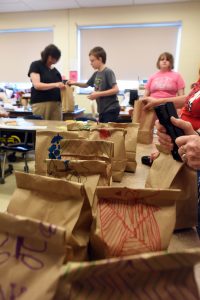 The seventh graders through seniors aren't packing up to go on a vacation every Tuesday or Thursday mornings. Instead, they stuff macaroni and cheese, Ramen noodles, oatmeal, granola bars, and fruit snacks into decorated paper bags for selected Harry Hoag Elementary School students to eat over the weekend.
"This is something that we started doing three years ago. It is a small gesture that, we hope, makes a big difference," Petty said. "These kids love to help others. That is something we all need in our lives."
The food items are purchased every week by Liberty ARC, the Montgomery County Chapter of NYSARC, Inc., which is a statewide advocacy organization serving people with disabilities through 48 member Chapters. After all the food is packed the Life Skills students take it up the road to Harry Hoag to be distributed to elementary students on Fridays.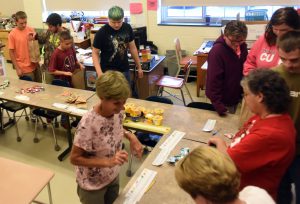 "One of the things I appreciate most about the Fort Plain Central School District is the emphasis we place on supporting our students in and out of the classroom," said Harry Hoag Elementary School Principal Lauren Chrisman who coordinates which students receive packages. "This program provides children with comfort beyond the school day. From my interactions with students there is a sincere gratitude for these care packages.  Healthy students are happy learners and we are so fortunate to have the opportunity to help our students in this way."
The Life Skills class is planning a roast beef dinner fundraiser at the Canajoharie-Fort Plain Elk Lodge on Thursday, November 9 to support the efforts. People are invited to eat in or take out for $10 per adults and $5 per child.
Those interested in helping in anyway with the fundraiser or the food program can contact Petty at lisa.petty@fortplain.org.
"These [older] kids are always looking out for others and that is the kind of thing that really makes this all worthwhile," Petty said. "We are all here to help each other."