Spooky science comes to life for sixth graders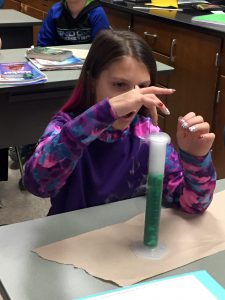 The trick was a treat for the students in Pat Hanifin's sixth grade science classes on Halloween.
Student filled cylinders with colored tap water and then added dry ice, otherwise known as frozen carbon dioxide, to create creeping fog as part of their "Spooky Science" lesson for the day.
Students learned about handling dry ice safely. Even though the fog created by the ice and water is harmless, dry ice itself cannot be touched by bare skin or eaten. The extremely low temperature will cause frost bite very quickly.
Dry ice may look like the cubes from the freezer at home, but it stands at -109 degrees Fahrenheit.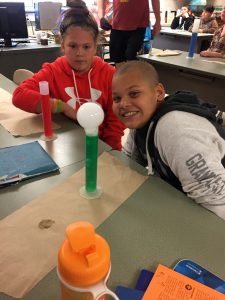 Dry ice doesn't melt like water cubes either, as the dry ice the students used bubbled into a grey mist when they added it to the colored water. After they added a few drops of dish soap to the "cauldrons" bubbles formed and held the fog in place until the bubbles popped.
The room looked much more like Dr. Frankenstein's lab instead of Mr. Hanifin's regular classroom.
Beyond the hands-on experiments, students learned how dry ice is made, its properties and some of its common industrial uses.