NYS Regent gives Fort Plain school a big thumbs-up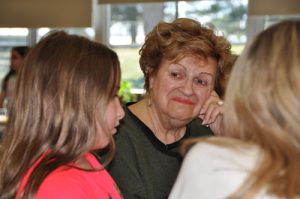 "This place is looking forward," said New York State Regent Beverly Ouderkirk as she ended her half-day visit to Fort Plain Central Schools on Apr. 24.
"I see so much good happening; I am so high afterward," she added.
Ms. Ouderkirk is the Regent who represents much of Northeastern New York on the state's Board of Regents. The board works with the Commissioner of Education to establish the policies that guide education throughout the state. Her region includes six BOCES and more than 100 school districts.
She said she is just a normal human being and gets down when she hears the negativism about schools and students. But when she comes into schools such as Fort Plain and speaks to educators and students she sees enthusiasm, hard work, and great ideas.
"There is so much good happening. After these visits, I know things are going to be okay," she said.
On her visit, she stopped in at both the Junior/Senior High school and Harry Hoag Elementary. She spoke with administrators, teachers, and students about their programs and their learning.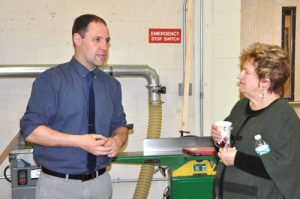 Her first stop was to the Academic Coaching Center. This was a first for her as few districts offer anything like this credit recovery and support system. She moved on to enjoy  lunch prepared by Lisa Petty's life skills class. Her last stop was Craig Heroth's technology classroom where she marveled at students' hands-on projects. She listened intently as he described the school's new technology pathway to graduation that begins next year.
At Harry Hoag, she dropped into several third and fourth grade classrooms. She observed the teachers, but was most interested to speak with students. Sitting by their desks she asked questions about what they were learning and how they were tackling the high level assignments. The children excitedly described their work.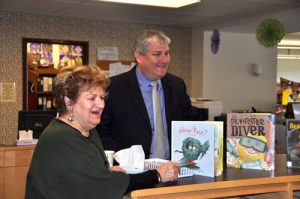 "As a K-12 educator, Regent Ouderkirk brings a unique perspective to the Board of Regents," said Superintendent David Ziskin.
"Her passion for students is at the forefront of everything she does."
Ms. Ouderkirk praised Fort Plain for its efforts to tackle the challenges of student behavior, poverty, and student achievement. She was especially impressed by the mindfulness program that teaches children to way to collect themselves in stressful moments.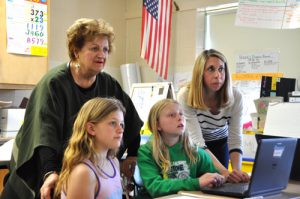 She admitted that people from cities and larger schools do not realize the great things taking place in small, rural schools.
"I plan to carry what I have learned back to Albany," she said.