National Honor Society inducts nine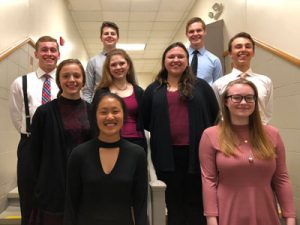 The Fort Plain Central School National Honor Society inducted nine new members at its annual induction ceremony and banquet on Saturday, May 12, 2018.
The new members are Emily Abrams, Michael D'Arcangelis, Autumn Dodson, Sherry Huang, Quinn Jones, Elijah Jordan, Patrick Murphy, Bryce Thibodeau, and Mackenzie Wintermute.
Chapter president Michael Hoffman opened the ceremony by welcoming the attendees. He highlighted the four criteria to be considered for membership in NHS
Scholarship—a minimum GPA of 89.955
Service—volunteering at school or in the community
Leadership—in the classroom, athletics or extracurricular activities
Character—good citizenship, ethics, and conduct both in and outside of
school.
He encouraged each inductee to exemplify the four pillars. He also reminded them that they have barely a year until left in high school.
"My advice to you, is to make the most of it before its gone," he said.
NHS Vice President Ryhonn Ford led the "Pledge of Allegiance" and the quartet Harmony sang the "The Star Spangled Banner."
National Honor Society Adviser Denise Smith then spoke, thanking the administration, faculty, and staff for their support of the Honor Society and the night's event. She further thanked parents for supporting their children's endeavors.
She offered NHS members advice collected over her years. Among the highlights were:
Embrace life's opportunities; find a cause; be inspired to do the impossible.
Put down the technology when with other people—there is no app for meaningful eye contact.
Don't just make a living; make a difference.
Making history means stepping outside your comfort zone and using your gifts and talents.
Never stop learning and exploring.
Live life with empathy, integrity, and class.