Mr. Hanifin's fifth-grade science class discover a big surprise in an owl pellet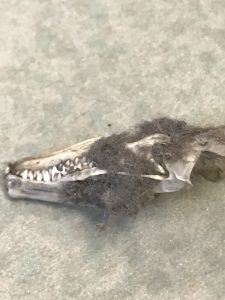 Each spring, students in Mr. Hanifin's fifth-grade science classes dissect owl pellets. This spring, student Bradley Rumrill came across a big surprise in his pellet!
Owls cannot chew their foods. They swallow their prey whole, and it passes directly from their mouth to their gizzard, which is a lot like a stomach. Any material that cannot be broken down, or digested, is left behind and packed into a tight pellet that the owl spits up. Owl pellets contain bones, teeth, claws, and feathers.
Because owls swallow their prey whole, often entire intact skulls and skeletons are found inside of the pellets. These give researchers clues as to where the owl has been living and hunting. Fort Plain students typically find the bones and fur of mice, rats, moles, and voles inside of the owl pellets. Sometimes, they find feathers and tiny bones from tiny birds that the owl has eaten. Occasionally, they may find the bones of frogs, toads or snakes.
Fifth-grader Bradley Rumrill recently found the intact skull of a creature that none of Mr. Hanifin's students have ever encountered before. The skull features a long, pointed snout and very sharp, pointed teeth. Information provided by the owl pellet company shows that the pellets our students received were collected in the state of Washington, in the northwest region.
Research by the students has led them to their best guess – a Northern Long-Eared Bat. What do you think the mystery skull is?