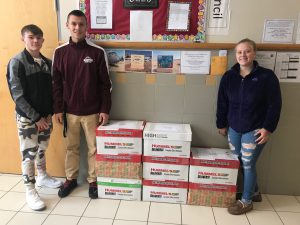 The Student Council organized a drive to collect items for SSgt Samuel Hoffman, a 2012 graduate of Fort Plain.
Hoffman is one of the Combat Christmas Party committee members at Al Asad AB.
Hoffman and six others were tasked with putting together a party for the 1st Expeditionary Rescue Group that covers a couple of hundred members in Camp Flores.
The Student Council collected a wide variety of items to be used in Christmas gift baskets for the soldiers there and mailed out eight FULL boxes of things on Tuesday, November 20th so they will reach the troops in time for the holidays!
Excellent work Fort Plain students!