Little Free Library set up at Harry Hoag Elementary School
Jackie Kennedy once said, "There are many little ways to enlarge your child's world. Love of books is the best of all."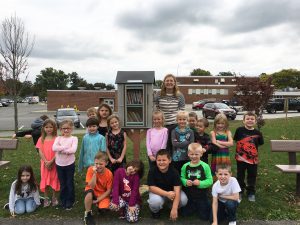 Since October is National Book Month, Fort Plain first-grade teacher Kyra Gallup took the first lady's thought to heart. She and her class put the finishing touches on their own Little Free Library on the Harry Hoag Elementary School playground last Wednesday.
"I started working on it over the summer and my class and I were so excited to go out and stock it full of great books," Gallup said. "The hope is that the box stays constantly filled with great books and that our children get the chance to be exposed to more books than before."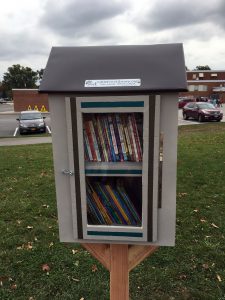 The concept of a Little Free Library – a free standing outdoor cabinet where books can be taken and left for others free of charge – is an international movement that started in 2009 to give as many people access to books and knowledge as possible. More details about the project are available at littlefreelibrary.org.
"Our Little Free Library has books for every children of all grade levels from preschool up to sixth grade," Gallup said. "We stocked ours with chapter, nonfiction, story, and joke books."
Currently, one of Fort Plain's current first graders, Molly Shults, is working on getting another Little Free Library built in Haslett Park next to Main Street. Shults has even gone before the Fort Plain Village Board to get approval for the project.
"That is just the beginning. You never know what other books might appear," Gallup said. "We are hoping that there will be even more Little Free Libraries popping up around Fort Plain. Anyone can make one!"