Lauri Broady honored as Friend to Education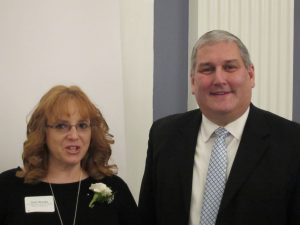 On Feb. 16, Fort Plain CSD's Lauri Broady was honored with the Capital Area School Development Association (CASDA) Friends of Education Award.
CASDA presents this award to recognize the selfless contributions of individuals who dedicate themselves to serving students and the school community.
Although Mrs. Broady is the school's food service manager, she is much more.
Many people do not realize that she serves both Fort Plain and Canajoharie. She works together with the cafeteria staffs to ensure students receive appetizing and highly nutritional meals. To make certain that all students had access to those meals, so Mrs. Broady led successful applications to the USDA Community Eligibility Program. Under this grant, all students in both districts receive a free nutritious breakfast and lunch each school day. Her shared responsibilities extend beyond the cafeteria. She co-directs plays and musicals for Canajoharie-Fort Plain Drama Club and coordinates the Canajoharie-Fort Plain Health and Wellness Fair.
Her efforts don't stop there.
In Fort Plain, she teaches four Talented and Gifted groups. She is the advisor for the Harry Hoag student council and produces the district newsletter that runs in the Pennysaver.
Mrs. Broady is truly a Friend of Education.