Jr./Sr. High School Library Hosts "MakerSpace"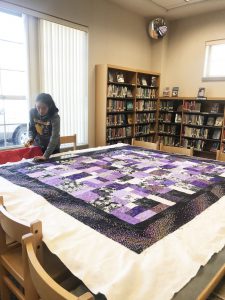 Three seniors are putting the finishing touches on patchwork quilts that they have designed, pieced and sewed right in the Jr./Sr. High School library. A MakerSpace is a collaborative workspace inside of a school or library, where students use tools for making, learning, sharing and exploring projects. This winter, the Jr./Sr. High School library has been hosting a MakerSpace for students to work on a quilting project. After selecting a quilt pattern, the students chose fabrics and colors to enhance that style. Library Media Specialist, Mary VanPatten, is also a quilter in her spare time. She worked with the students on the techniques they needed and assisted them with learning to sew the pieces together correctly, with different types of stitches.
Graduating seniors Kevin Staples, Sherry Huang and Cara Porter have each created a full-size quilt, which they plan to take to college with them in the fall.