January Newsletter Available
January Newsletter
Volume 35 | Issue 5
Calendar Changes | Upcoming Events | Winter Break | The Sound of Music | Health Fair 2019 | Substitutes Needed | Students of the Month | A Newspaper for Kids, By Kids | Every Person is Connected | Morning Program Tradition Continues | Harry Hoag School's Talented & Gifted Program
Calendar Changes:
Please take note of the following updates to the published district calendar:
February 18 – No School, Winter Break
June 25 – Baccalaureate Rehearsal 4:00
June 26 – Baccalaureate Service 7:00
June 27 – Senior Breakfast 8:30 a.m.
June 27 – Graduation Rehearsal 9:15
June 29 – Graduation 10:00 a.m.
Upcoming Events
Feb. 13 – Board of Education Mtg, 6:00 PM
Feb. 14 – Valentine's Day
Feb. 15 – School Closed, Winter Break
Feb. 18-22 – School Closed: Winter Break
March 6 – Public Hearing on Buildings & Grounds, Transportation with regular BOE meeting to follow, 6:00 p.m.
Winter Break
The school will be CLOSED for winter break on Friday, February 15th.
School is also closed from Monday, February 18th through Friday, February 22nd.
Classes resume on Monday, February 25th.
The Sound of Music
The Fort Plain-Canajoharie Drama Club will present their annual spring musical, "The Sound of Music" on Friday, March 29th at 7:00 p.m., Saturday, March 30th at 7:00 p.m. and Sunday, March 31st at 2:00 p.m.
All performances are held at Canajoharie High School.
Admission is $7 for adults and $5 for seniors & students.
Health Fair 2019
The district is accepting businesses, organizations or school groups who would like to exhibit at this year's Community Health & Wellness Fair in April.
Contact Lauri Broady at lauri.broady@fortplain.org to sign up, or for more information.
Substitutes Needed
The district is actively seeking substitutes in the areas of school bus drivers, cleaners, and food service workers. To apply, submit an application, letter of interest and three letters of recommendation. Applications are available online at www.fortplain.org.
Students of the Month
Congratulations to the Students of the Month for December:
Daniel Jones Grade 2
Aiden Leonard Grade 3
McKenna Karker Grade 5
Breidyn Wall Grade 6
Conner Dillenbeck Grade 6
Dustin Welch Grade 6
Payton Skiffington Grade 7
Nora Handy Grade 8
Talia Narzymski Grade 9
Molli Bates Grade 10
Crystal Smith Grade 11
Michelle Reese Grade 12
A Newspaper For Kids, By Kids
Under the direction of district Technology Instructor, Mr. Matt Heiser, a group of 6th-grade students are volunteering their time to put out the "Harry Hoag New Newspaper."
Published once per month, the newspaper is entirely planned and written by a large team of Technology Club students. The newspaper staff uses Google Docs to work on and submit their contributions. Each student is assigned an article or section, which they work on in the computer lab, adding to the newspaper layout as they work. By utilizing Google Docs, up to 15 students can work on the same edition, at the same time. The students are learning skills which include: writing, editing, graphics, and design. Each issue features items such as movie reviews, comics, puzzles & coloring pages, debates, science articles, editorials, jokes, Dear Jessica advice letters, Animal of the Month, Student Council news and interviews with administrators, teachers or staff.
Recent issues featured topics such as Real Christmas Tree vs. Artificial, Celebrating Martin Luther King, Jr. Day, interviews with Principal Lauren Crisman and Teacher/Ninja Warrior Geoff Snyder, sports and club updates, and student opinion about Common Core and state testing.
The Technology club students working on the newspaper include: Jasmine Lapi, Brandon Schuyler, Maiya Sousa, Alex Ellis, Jordan Brown, Kaedence David, Jed Douglas, Payton Landry, Vienna Jackson, Chloee St. Louis, Julie Kirby, Country Hammond, Chase Tyler, Serenity Johnson, Damien Massie, Chad Rogers, Bionika Hernandez, and Morgan Stone.
The Tech Team has had an amazing time putting together the content, working collaboratively, and using technology to create the best presentation for the readers.
Every Person is Connected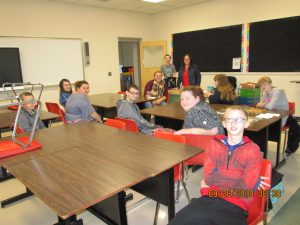 "Every kid is one caring adult away from being a success story," said Jr/Sr High School Counselor, Colleen Cushing, quoting the best-selling author, Josh Shipp. The quote was the mentality and motivation that brought the Every Person is Connected (EPIC) program to the Jr./Sr. High School this year.
EPIC is a program that seeks to ensure that every student in the school has at least one trusted adult that they can make a connection with. The EPIC committee met several times over the summer to lay out a framework for the program with a goal of improving student attendance and encouraging greater interest and participation in the school community as a whole.
Each EPIC team consists of one or two adults and no more than ten students from different grade levels. The teams will stay together year after year. They meet about once a month on a rotating basis that does not compromise the academic schedule. Each month features a program theme, such as connections, unity, gratitude, goal setting, good vibes, grit and learning to give yourself a hand. Each team leader is provided with a menu of suggested activities which they can feel free to expand upon – or even come up with their own. A typical session might include a team-building exercise to build trust, an artistic activity to spur creativity or a share-discussion aimed at exposing the students to new ideas, new activities, and new people.
The EPIC committee continues to meet and to gather both staff and student input as to what activities are working best and where they want to go in the future. They are finding that kids who didn't know each other before being placed into an EPIC team together, are now greatly enjoying each other's company and finding out about their shared interests and passions. The team leaders are making solid connections with their students which will help the students feel more secure and valued on a daily basis.
"So far it has been an EPIC year!" Said Mrs. Cushing.
History Students Give Back
The spirit of giving that surrounds the holiday season was the focus of Mr. William Ryan's recent challenge to his period 5 Global History 10 class. He asked his students to consider how they might support the local first responders who do so much for our families and community. The class decided to collect their "spare change" to benefit the Fort Plain Fire Department, with Mr. Ryan offering to personally match whatever funds they could raise.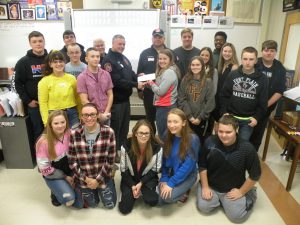 Pictured is the 10th-grade students proudly presenting a check for $100 to Fort Plain Fire Department President, Mr. Joseph Hanifin. Mr. Ryan commended his class for their sense of civic responsibility and appreciation. Great job!
Morning Program Tradition Continues
Each Friday morning, the Kindergarten through Second Grade students at the Harry Hoag School can be found gathered in the gym, to share the tradition of weekly Morning Program.
Starting the school day together on a positive note instills in each student positive feelings about their school, themselves, and each other. Each month features a theme with activities centered around holidays, seasons and the important school events.
A typical Morning Program includes students performing most of the jobs, including pledge leader, flag carrier, song leaders, calendar, Tidbit of the Day reader, riddle host, and birthday helpers. Each Friday features songs, often with the students performing them in American Sign Language. Weekly songs include patriotic anthems and the school's Alma Mater.
Each Friday, one grade level gets the chance to introduce their friends and family members in the audience who have come to support the school and cheer on the student program leaders.
Morning Program activities are currently building towards the all-important "100th Day of School" celebration.
"Morning Program offers our early learners a chance to celebrate our school and community pride," said Principal Lauren Crisman.
This important tradition sends students and adults alike off to tackle their day with a smile on their face!
Harry Hoag School's Talented & Gifted Program
The fifth and sixth-grade students in the Talented & Gifted Program (TaG) recently met to conduct a science experiment to see if they could make crystals form.
The students prepared all of the ingredients mixed them in beakers and placed them into special holding containers. The crystals grew quickly over one weekend and the students enjoyed seeing them continue to get bigger with each passing day.
"This was so much fun," one student announced during the activity. "I love feeling like a real scientist!"
At other recent sessions, the students had a chance to conduct several science experiments, which explored the topics of air displacement, water phases, and balance. Each group rotated through five different experiments, comparing their efforts and recording their results.
Upcoming activities for the fifth and sixth-graders will include a day of "Fun With Math" featuring math games, puzzles, and activities. "Young Architects" will spend several sessions designing a house floor plan and assembling a 3D model of that home.
The TaG Junior group consists of third and fourth-grade students. They will soon meet for "Recycling as Art," where they will collect discarded paper and turn it into jewelry and keychains. They will celebrate spring by making and decorating a flower box and then designing a layout and planting the seeds. The flower boxes will be on display for them to water and keep an eye on the progress of the spring plants.
The TaG Junior Drama Club will also meet for a couple of sessions, learning about playing roles, participating in acting activities, and performing small skits for their club members. Their learning will prepare them to be the future stars of upcoming Elementary Drama Club performances.