Jacy Good brings a powerful message about distracted driving to Fort Plain Central School District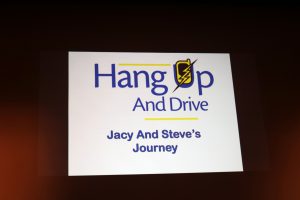 Did you know, April is distracted driving awareness month?
Let Jacy Good explain the causes of driving while distracted.
On May 18, 2008, 21-year old Jacy Good and her parents were on their way home from Jacy's college graduation. The last memory Jacy remembered was stopping at a gas station as she woke up two months later in a rehab hospital.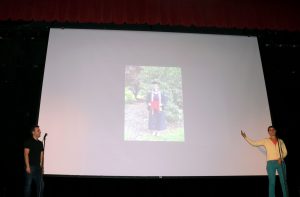 Fort Plan's Students Against Destructive Decisions (SADD) President, Justine Kirby and Vice President, Quinn Jones, introduced Jacy Good and Steve Johnson to students at Fort Plain Jr./Sr. High School on Thursday, March 28. Jacy and Steve spoke to the students on distractive driving and how one distracted driver changed Jacy's life.
On the way home from graduation, a young driver talking on his cell phone ran a red light, causing a tractor-trailer to swerve and crash into the Goods' vehicle. Jacy was critically injured, and both of her parents, Jean and Jay Good, were killed instantly. Jacy was given only a 10% chance of making it through the night.
Just hours before, Jacy and her family were celebrating her accomplishments. She landed her dream job through AmeriCorps as a team leader for Habitat For Humanity and was excited about the future she planned with her then-boyfriend, Steve.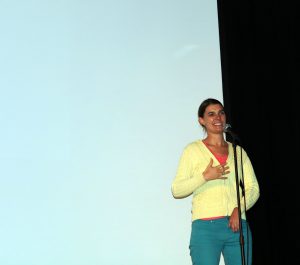 "It hurts too bad," Good said of deaths caused by drivers distracted by their phones. "It can't keep happening."
Images of Jacy's family, her in the hospital with tubes attached to her and struggling to gain mobility to do everyday tasks were projected on a screen in the auditorium.
The students quietly sat and listened to her speak.
Jacy kept mentioning a "ripple effect" of pain caused the accident.
"You don't need to be one of the people in these cars to be impacted by these tragedies," she said.
An example of a ripple effect she mentioned was her mother, Jean Good, who was an English teacher.
"Three hundred 13-year-old kids had to come to school and learn Mrs. Good had a substitute" she said pausing, "because she was dead."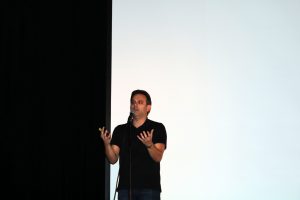 Jacy and Steve emphasized the dangers of talking on the phone while driving. "Texting and driving are more dangerous as it only distracts the driver for 3 to 6 seconds, while a phone call, handheld or held, can leave a driver distracted for an entire trip," Steve said.
Steve stressed that talking on a phone while driving also reduces the driver's field of view by 50 percent. The effect is called inattention blindness, he explained.
Statistics and facts were projected on the screen:
Did you know?
27% of all motor vehicle crashes are caused by a cellphone.
An average of 5,500 people is killed every year in North America as a result of cellphone distractive driving. That is 15 people every day.
Students were allowed to ask questions.
"How can you tell someone who is driving and on their phone to get off it but they are too stubborn to listen?" one student asked.
"Do whatever it takes," Jacy said. "Tell them my story; we are friends now. Tell them what happened to your friend because of a driver who was distracted by his cellphone while driving."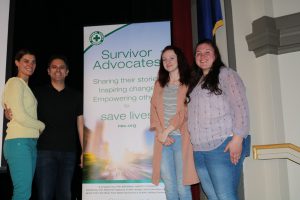 Jacy also recommended to the student to offer to be the designated texter. "Offer to text back for that person or change the song. Do whatever it takes to get them to focus on driving."
In the end, Jacy recommended putting your phone on Do Not Disturb while driving or downloading an app that can help you stay focus and accountable while driving.
LifeSaverApp – The LifeSaver solution provides a practical approach to solving the distracted driving problem through deterrence, measurement, and rewards. The app will deter the driver from using their Android or iPhone while driving. It will also collect distracted driving information which is displayed via the Driver Portal to the driver or their loved one so that the driver can measure their safe driving activity and be rewarded appropriately for it.
"We all have the power to save lives and make the right decision. It is a choice to use your phones and drive. Make the right decision and be the change."