Honoring achievement since 1947: The Scholarship Association of Fort Plain offers awards to any FPHS senior with an average of 75 or above
Fort Plain residents Doris Giovannone Dutcher and Myrna Beck Herb went to college during a time when a formal post-secondary education – be it college, trade school or a formal apprenticeship – wasn't a given for either gender, and they were able to pursue their dreams with the help of a scholarship.
Since then, they've dedicated much of their time – a combined 101 years – paying it forward as leaders of The Scholarship Association of Fort Plain, which was established in 1947 and awards scholarships to Fort Plain High School seniors who have achieved an average of 75 or above through their high school years. A special award is granted to students who have maintained an average of 85 or better for their effort. Myrna is the current president of the Association and Doris is the secretary/treasurer, and both have held leadership positions there for many years.
"The goal of the Scholarship Association of Fort Plain is to assist qualifying seniors to obtain a higher education. Students who have maintained an average of 85 or better are to be rewarded for a job well done, for applying themselves and for doing hard work in achieving during their time in high school," Doris and Myrna said.
The first scholarship, for $1,000, was awarded in June 1947. Since then, both the scholarship fund and the number of students it has helped have grown impressively. During the past 20 years alone, the Association has awarded $1,382,167 in scholarships to Fort Plain graduates, including $106,000 last June, with more to be presented next month. All a student has to do to apply is complete paperwork that is available from the high school counseling office.
Scholarship marked the start a long and successful business career
In June 1950, Fort Plain High School graduating senior Doris Giovannone received an award from The Scholarship Association of Fort Plain. That fall, she went on to attend Albany Business College, enrolling in their rigorous executive secretarial program. "It was 33 solid weeks without many breaks," Doris said. "I lived with a family in Albany during college and covered my room and board by babysitting their children and cleaning their house. I had to dust the venetian blinds – I hated that! And I was allowed just one night per week out and had just one weekend off per month."
After college, Doris went on to a successful career that included positions with the State Office of Teacher Certification, the Harvey Insurance Agency (which later became the Harvey Triumpho Agency); as proprietor of The Pearl Shop, a local dress shop; and with the Shults Insurance Agency, from which she retired at age 62, but then returned to work for part-time. She also became a Notary Public during her time with the Harvey Agency.
Doris became secretary/treasurer of The Scholarship Association of Fort Plain in 1955, the year a scholarship was awarded to Fort Plain High School senior Myrna Herb.
Award helped scuttle homesickness and launch a career teaching local children
Myrna's older sister, Gloria Beck, had been among two scholarship recipients in 1948, using the award to study at SUNY Albany for a career as an English teacher and guidance counselor. While she had a goal of following her sister into education, Myrna almost didn't make it through her first semester at SUNY Oneonta.
"I got very homesick when I was away at college," Myrna said. "I called home one Thursday night and told my father, 'I just can't do this anymore.' He was quiet at first, and then told me if I left college and came home, I would be working in the laundry for the rest of my life. I hated doing laundry! I also thought of the scholarship I had received and about other students, and I decided to stick it out."
Myrna also lived off-campus during college, in a private home for a fee of $6 per week. She helped pay for her education by "babysitting the six children of an English professor for 75 cents an hour." Reflecting on her father's convincing her to stay in college that first semester, Myrna said, "My parents had the confidence in me that I needed to have in myself." She added that she completed her first year of college "by taking it one day at a time."
Myrna went on to become an elementary school teacher, first in Canajoharie and then later in Fort Plain, where she taught for 23 years. When her children were young, Myrna worked as a substitute teacher for nine years "everywhere." She retired from teaching in 1995.
Awarding scholarships since 1947
The Scholarship Association of Fort Plain held its first formal organizational meeting on May 15, 1947, and awarded its first scholarship, $1,000, the following month to Fort Plain graduating senior Helen Brown. The Association's endowment grew significantly over the years, thanks to the generosity of many donors, both individuals and organizations.
By 1994, the Association had awarded $58,000 in scholarships. In November of that year, the scholarship fund got a big boost when the Association received a bequest from Clifford Abel for $1 million, enabling the presentation of many more annual awards. Mr. Abel was a 1944 Fort Plain High School graduate who served in the Navy, then worked his way through college and graduated from Rensselaer Polytechnic Institute (RPI) in 1950. His sister, Janet, also graduated from Fort Plain, in 1950.
A sizable life insurance policy was also left to The Scholarship Association of Fort Plain, and several estates have contributed to the Association's successful program over the years, including the estates of the Wiles family, Frank and Mary Smith, George Weeks, Lore and Leo Koppel, Thelma Temple, and Dr. Charles Slater, who requested awards be given to students enrolled in an accredited American medical college.
Numerous memorials, merchants, families and individuals have donated to The Scholarship Association of Fort Plain, and their generosity continues. Many of the donors to the scholarship fund are past recipients. "We invite students to become members of the Association and find that many welcome the opportunity to give back," Doris and Myrna said.
Important notes for today's students and families about the scholarships
Doris and Myrna noted, "It is very important that every deserving student receives a scholarship. We want to make sure that all who qualify receive an award. All you have to do is fill out the application. We also want everyone to be assured that all applications are strictly confidential, and that we shred the paperwork when it's no longer needed."
"The Scholarship Association of Fort Plain is a wonderful and generous organization, and Doris and Myrna are an inspiration for our students because of their commitment, caring and community pride," said Fort Plain Superintendent of Schools John Bishop. "We want to ensure that every student who qualifies for an award submits an application. Our faculty and staff are reaching out to all qualifying seniors, and we will continue to spread the word among our school community about this very special program."
The Fort Plain High School Counseling office is ready and able to assist with any questions about the scholarships and the application process. Simply contact Colleen Cushing at colleen.cushing@fortplain.org or (518) 993-4000.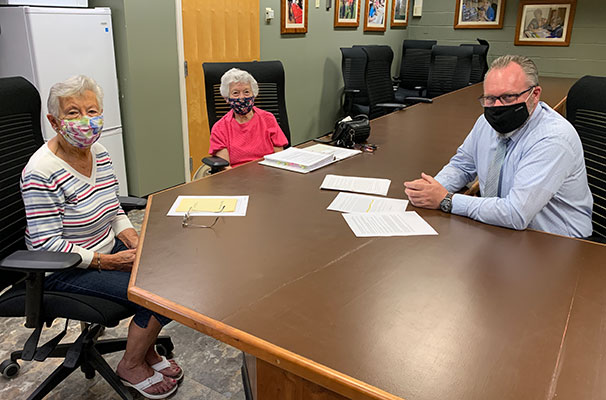 From left, Myrna Herb and Doris Dutcher meeting with Fort Plain Superintendent John Bishop