Harry Hoag Drama Club wraps up successful season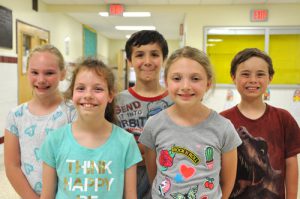 The Harry Hoag Elementary Drama Club concluded its season on Thursday, May 31.  Throughout the year, students in grades 3-6 built their drama skills. They focused on acting skills, voice techniques, warm up exercises, expressing emotion, working with a partner, improvisation, monologues, and short skits.
"This younger generation will soon be those performing on stage with the Fort Plain-Canajoharie Drama Club," said club adviser Lauri Broady.
"These are all skills they will need if they choose to pursue drama in the future."
Mrs. Broady also named the 2017-2018 Elementary Drama Club All-Stars.  They are third-grader Gami Brackett and fourth-graders Isaac Clark, McKenna Karker, Rachel Kamp, and Isis Hammond.