Fort Plain's National Honor Society Inducts Nine on Saturday, May 11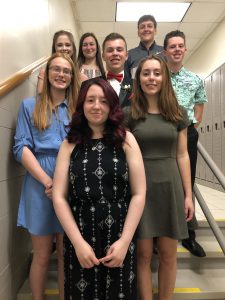 The Fort Plain Central School National Honor Society inducted nine new members at its annual induction ceremony and banquet on Saturday, May 11, 2019.
The new members are Nathaniel Beam, Gulum Demir, Brady Fureno, Taylor Gifford, Jasmine Livingston, Willow MaGinnis, Crystal Smith, Michaela Stockwell, and Lauren Weinberger.
Chapter president Sherry Huang opened the ceremony by welcoming the attendees. She began her speech with a quote by Holly Goldberg Sloan, "That was one of the secrets to success: caring about the big things and the small things."
Huang went on to say good character is harder to achieve than good grades
because character is not a conscious decision.
"Grades show what you are capable of. Character shows who you really are. Success shows both."
To be considered membership in the National Honor Society you need to have all four of these criteria:
Scholarship—a minimum GPA of 89.955
Service—volunteering at school or in the community
Leadership—in the classroom, athletics or extracurricular activities
Character—good citizenship, ethics, and conduct both in and outside of
school.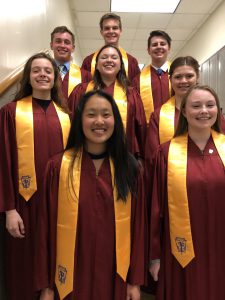 National Honor Society Adviser Denise Smith spoke, thanking the administration, faculty, and staff for their support of the Honor Society and the night's event. She further thanked parents for supporting their children's endeavors.
Smith offered National Honor Society members advice as they begin to embark on their new journey:
Think: Do not stop thinking. "Focus on what YOU believe is important – but make sure it is for the right reasons," Smith said, "Go deep into what you care about, understand all sides of an argument, and always make sure you have data and science on your side. Allow your opinions to be altered by new information, and remember that it is always easier to criticize than to solve, because solving requires thinking."
Think Big: "Our world is chock full of diversified groups of people. For the sake of simplicity, let us think about dividing these vast groups into two groups of people — Big people and small people. I am not referencing the size of the people in these two groups, but merely the essence of the people belonging to these groups." Smith goes on to say, "Whichever group you choose to belong to, try to expand your horizons beyond the ordinary. Be curious. Ask questions, but always challenge yourselves to think BIG!"
Lastly, Think Back: "You are surrounded by your friends, your family, and some of your teachers. Do not ever forget these people. These are the people who have played a role in your success thus far, and regardless of where you end up, they will be a big part of that as well."
Smith ended with, "Even though you are about to head in many different directions, there is nothing that will ever compare to the people from your childhood. Always remember to keep them in your lives."