Fort Plain Superintendent 2019 Recipient CASDA's Excellence in District Administrative Leadership Award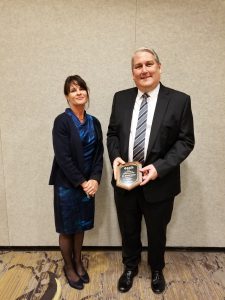 On Wednesday, April 10, 2019, Fort Plain's Superintendent, Dr. David Ziskin, was awarded the Capital Area School Development Association (CASDA) Excellence in District Administrative Leadership Award at the Marriott Hotel in Albany.
Dr. Ziskin was nominated by Dr. Kristin Wilcox, Associate Professor, Director of NY KIDS University at Albany School of Education, for his outstanding leadership in promoting systematic school improvements and student academic achievements.
Dr. Wilcox noted that Dr. Ziskin's efforts to utilize NY KIDS and COMPASS data has galvanized teachers, school leaders, and community partners to reduce student barriers to educate, increase literacy, and work together toward common goals.
Congratulations, Dr. Ziskin on your achievement!