February Newsletter Available
February Newsletter
Volume 36 | Issue 6
Calendar Changes | Upcoming Events | Parent-Teacher Conferences | Health Fair 2019 | Drama Club: Sounds of Music | Fun with Math | Penny Wars | Students of the Month | Winter Sports All-Stars | Scholar-Athlete Teams Announced | Jaxson Yacowenia Achieves 1,000 Points | Elementary STEAM Project | Protect Your Family from the Flu
Calendar Changes:
Please take note of the following updates to the published district calendar:
June 25 – Baccalaureate Rehearsal 4:00
June 26 – Baccalaureate Service 7:00
June 27 – Senior Breakfast 8:30 a.m.
June 27 – Graduation Rehearsal 9:15
June 29 – Graduation 10:00 a.m.
Upcoming Events
March 6 – Public Hearing on Buildings & Grounds, Transportation with regular BOE meeting to follow, 6:00 p.m.
March 7 – Elementary School Spring Picture Day
March 8 – Elementary School Dismissed at Noon
March 13 – School Closed
March 29 – School Closed
March 29-31 – Sound of Music Musical
April 2 – April 4 – NYS Testing ELA 7th & 8th
Parent-Teacher Conferences
The elementary school will dismiss at 12 noon on Friday, March 8th, for parent-teacher conferences.
Health Fair 2019
The Fort Plain District will join with the Canajoharie District to present their annual "Community Health and Wellness Fair" on Saturday, April 13th from 9:00-noon at the East Hill Elementary School in Canajoharie.
This year's theme is "Super Snacking: The Power of Healthy Eating While Living Life on the Go." The health fair will feature many free, healthy snacks such as homemade guacamole, fruit kabobs, make-your-own trail mix and smoothies. Fitness activities will take place all morning long in the gym, and will include 9-minute home workouts, and free classes for both adults and children.
There will be a golf clinic and indoor family fun walk, along with many other children's games and activities. As always, the health fair will feature many information booths about the wealth of health and wellness services available in our surrounding area.
Fair visitors can enjoy a massage, get a free health screening, participate in a cooking class, and take home many terrific giveaways. The health fair is completely free and open to the public of all ages.
Drama Club Presents: The Sound of Music
The Fort Plain-Canajoharie Drama Club will present this year's spring musical, "The Sound of Music" from March 29th-31st at the Canajoharie High School.
Taking place in Austria in 1938, the story follows Maria as she leaves the abbey, where she is studying to become a nun, and begins to serve as a governess to the seven children of military hero Captain vonTrapp. Maria soon discovers the hidden musical talents in the children, while also discovering that love comes in many different forms.
"The Sound of Music" stars Sophia Rogers (FP) as Maria, Connor Bowden (C) as Captain vonTrapp, Quinn Jones (FP) as Mother Abbess and Vicente Nunez (C) as Max. Also starring as the seven vonTrapp children are: Tori Rocas (C) as Liesl, Keagen Ford (FP) as Friedrich, Zianna Ellithorpe (C) as Louisa, Nura Handy (FP) as Brigitta, Vinnie DeCrescenzo (C) as Kurt, Caileigh Bartholomew (FP) as Marta and Faith Clark (FP) as Gretl. They are joined by Sarah Bowden as Elsa, Michael Barlow as Rolf, Rianna VanRenselaar at Frau Schmidt and Christian Jones as Franz. Completing the cast are Halle Nelson, Carlene Montanye, Sarah Paradiso, Anthony Paradiso, Steven Oeser, Joey Soto, Ashlin Tubbs, Chiarra Morris, Mathea Leonard, Max Richtmyer, Cassie Simpson, Amelia Gallagher, Jayden Bentz, Imani Haynes, Morgan Havilland, Richard Catarino, Dawson Sweet, and Emily Palmeri.
"The Sound of Music" is directed by Will Ryan and Lauri Broady. Musical direction is provided by Norma Bowley, and Lisa Hill serves as the costumer. Sets are being provided by set builders Mike Broady and Bruce Dingman, along with students artists Greg Post and Cassandra Harwood. Technical and stage crew includes Garrett Oeser, Willow MaGinnis, Phillip Wein, Mike Broady, Joey Soto, Ron Hill, Autumn Dodson, Catherine Twitchell, Jalen Hall, Vivian Hopkins, Aliza Hopkins, John Hopkins, and Tucker Jones.
"The Sound of Music" will be presented on Friday, March 29th at 7:00 p.m., Saturday, March 30th at 7:00 p.m. and Sunday, March 31st at 2:00 p.m. All performances are held in the Arkell Performing Arts Theatre at Canajoharie High School. Admission is $7 for adults and $5 for seniors/students. There will be an intermission with concessions.
Fun with Math
Members of the Elementary Talented & Gifted Group, "Fun With Math" recently met for an afternoon of math activities. They took mental math challenges, played a game of Mathelogical Liar, and participated in a Math Bee. Following the activities, students completed drills by solving 100 math facts in as short of time as possible. The following students successfully completed their facts in 6 minutes or less:
Jed Douglas 2 min 32 sec
Dawson Tracki 2 min 40 sec
Kimberly Kirby 3 min 34 sec
Sebastian Wood 4 min 24 sec
Hailey Davis 4 min 35 sec
Isis Hammond 4 min 55 sec
Ian Burns 5 min 24 sec
Allyson Rathbun 5 min 34 sec
Honorable Mention
Grace McFee
Devon Lambert
Natashia Hammond
The students enjoyed coming together with other kids who like math, with one student noting "math gets a bad rap! It really is fun!" Great job, everyone!
Penny Wars
Members of the Library Club have hosted "Penny Wars" throughout the month of February. Students were encouraged to donate their spare change, to benefit students and their families who are recovering from devastating forest fires in Paradise, California. Points were given and the winning class will be treated to a pizza party!
Students of the Month
Congratulations to the Students of the Month for January:
Zachary Alkenburgh Grade K
Christian Jones Grade K
Fiona Brown Grade 1
Kassidee Dodson Grade 4
Country Hammond Grade 6
Payton Landry Grade 6
Jordan Hillsgrove Grade 7
Rylee Herron Grade 8
Emma Oldick Grade 9
Antonio Jefferson Grade 10
Juan Hernandez Grade 11
Bryce Thibodeau Grade 12
Winter Sports All-Stars
The Section 2 Western Athletic Conference recently honored two members of the C-FP wrestling team. Congratulations to Cody Haig and Jared Bentz, who received 2nd Team All-Star Honors.
The Section 2 Western Athletic Conference held it's annual Bowling Tournament in mid-February, with the Fort Plain boys team finishing in 1st place in the boys' tournament, and the Fort Plain girls team finishing 2nd place in the girl's tournament. Great job to all!
Boys 2nd Team All-Stars: Brady Fureno and Anthony Paradiso Girls 2nd Team All-Star: Rachel Zuppardi Congratulations!
Scholar-Athlete Teams Announced
The New York State Public High School Athletic Association has announced the winter scholar athlete teams. Fort Plain teams earning this honor included: Girls Bowling, Boys Bowling, Boys Basketball, and Swimming.
Jaxson Yacowenia Achieves 1,000 points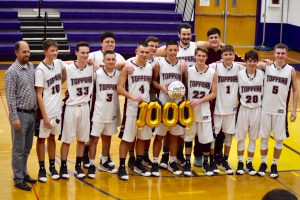 In a February 11th game against Duanesburg, Fort Plain High School Senior, Jaxson Yacowenia, became the districts' latest 1,000 point scorer in varsity basketball. Jaxson joins just six previous 1,000 point scorers, who include:
Dennis Smith (1978) 1,319 points
Roxanne Logan-Holtz (1979) 1,022 points
Kim Strait (1997) 1,222 points
Brad Strait (2000) 1,104 points
Erica Cutspec (2004) 1,243 points
Kelsey Logan (2011) 1,064 points
Congratulations to Jaxson on this impressive achievement!
Elementary STEAM Project
District Technology Coordinator, Mr. Matthew Heiser, recently worked with elementary students on their latest STEAM project.
STEAM is an educational approach to learning that uses science, technology, engineering, arts, and math as access points for guiding student inquiry, dialogue, and critical thinking. Students engage in experiential learning (hands-on), collaborating in pairs and teams to solve problems and walk through the creative process.
The student learners tackled a robotic snowplow project during the month of February. They participated in a week-long design process, creating their snowplow and determining the best ways in which to get it to work. Their goal was to successful move paper "snow" from one end of the table to the other.
All of the teams came up with creative designs, innovative solutions, and working models that performed their "snow removal" task admirably. Great job, students!
Protect Your Family From the Flu
Getting the flu vaccine can keep you and your child from getting sick. If you or your child are sick, avoid others as much as possible. Remember to regularly cover your coughs and sneezes, wash your hands often, and avoid touching your eyes, nose, and mouth. Contaminated surfaces that may have the flu viruses should be cleaned frequently. These everyday actions can help reduce your chances of getting sick and prevent the spread of germs to others if you are sick.