Faculty, Staff gather for first Superintendent's Conference Day of the year
Even though students weren't in classes, teachers and administrators in the Fort Plain Central School District still came together for the first Superintendent's Conference Day of the 2017-18 academic year on October 6.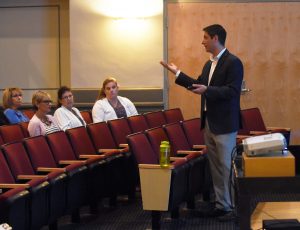 The day was highlighted by a pair of presentations to all Fort Plain teachers and aides about the continuation of the district's adverse childhood experiences (ACEs) training from David Wallace. Wallace is the Associate Executive Director for Program Development for the LaSalle School in Albany.
"These are the kind of days where we get to go beyond the day-to-day tasks that we have and explore areas that require deeper exploration," said Fort Plain Superintendent David Ziskin. "Days like this give us a chance to focus our efforts on topics that we might not otherwise have a chance to think about."
Faculty and administrators in each of the school's buildings also had breakout sessions. The Junior/Senior High School staff worked on, "Grading Smarter, Not Harder," to assess the values of what is graded and what those grades mean. While the Harry Hoag Elementary staff had sessions about Close Readers, student management support and motivational tools, and data-driven instruction among other things.
The conference day is one of four scheduled staff development days spread throughout the school year.
"I would like to extend a great, 'Thank You,' to our faculty and staff for their attention and participation in all of our activities. These are the kinds of meetings and discussions that will make our schools even stronger than they already are," Ziskin said. "I would also like to thank David Wallace for coming and speaking with us. I think that some of the perspectives and thoughts he shared will help us in the future to continue to prepare Fort Plain students for success during their time here and after graduation."