Every Person is Connected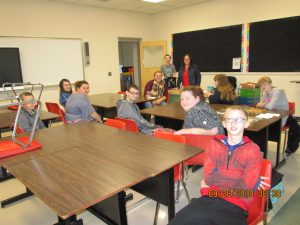 "Every kid is one caring adult away from being a success story," said Jr/Sr High School Counselor, Colleen Cushing, quoting the best-selling author, Josh Shipp. The quote was the mentality and motivation that brought the Every Person is Connected (EPIC) program to the Jr./Sr. High School this year.
EPIC is a program that seeks to ensure that every student in the school has at least one trusted adult that they can make a connection with. The EPIC committee met several times over the summer to lay out a framework for the program with a goal of improving student attendance and encouraging greater interest and participation in the school community as a whole.
Each EPIC team consists of one or two adults and no more than ten students from different grade levels. The teams will stay together year after year. They meet about once a month on a rotating basis that does not compromise the academic schedule. Each month features a program theme, such as connections, unity, gratitude, goal setting, good vibes, grit and learning to give yourself a hand. Each team leader is provided with a menu of suggested activities which they can feel free to expand upon – or even come up with their own. A typical session might include a team-building exercise to build trust, an artistic activity to spur creativity or a share-discussion aimed at exposing the students to new ideas, new activities, and new people.
The EPIC committee continues to meet and to gather both staff and student input as to what activities are working best and where they want to go in the future. They are finding that kids who didn't know each other before being placed into an EPIC team together, are now greatly enjoying each other's company and finding out about their shared interests and passions. The team leaders are making solid connections with their students which will help the students feel more secure and valued on a daily basis.
"So far it has been an EPIC year!" Said Mrs. Cushing.