Eight Annual Community Health and Wellness Fair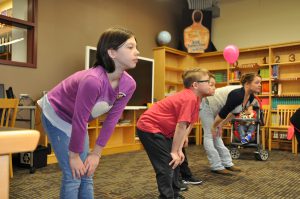 The 8th annual Community Health and Wellness Fair was held this past Saturday, April 14 from 9:00 a.m. to noon at the Harry Hoag Elementary School in Fort Plain.
This event focused on helping the community to become aware of the variety of health, wellness and nutrition-related programs that are available in our surrounding area. This year's Wellness Fair theme is "Start Your Day the Healthy Way!" The fair featured many children's activities, games, cooking demonstration, information booths and workshops. Visitors enjoyed free Pinkalicious Pancakes, Fruit Smoothies, Huevos Rancheros, Made-to-Order Omelets and a Homemade Oatmeal Bar that featured healthy toppings. There was a free mini-soccer clinic for kids and an American Ninja Warrior course. The Canajoharie Fitness Center presented a HiiT class in the gym, and "Easy Morning Stretch" classes were held in the library throughout the morning.
There were many new services featured this year, including The Eddy Alzheimer's Services, Amsterdam Pediatric Dentistry and Opioid Prevention. Attendees also enjoyed some Wellness Fair favorites, such as Healing Touch, Green Cleaning, Price Chopper Kids Cooking, HFM Prevention Council and Fulmont Community Action. The fair featured free health screenings, children's games and nutrition advices. Catholic Charities Office of Domestic Violence and Crime Victims Services will sponsor a balloon release out front at 11:30 a.m.
The Community Health & Wellness Fair is jointly sponsored by the Wellness Committees and School Nutrition Departments of the Canajoharie Central School District and Fort Plain Central School. This event was free and open to the public of all ages.
View our Facebook video below.