Cheap Eats, priceless recognition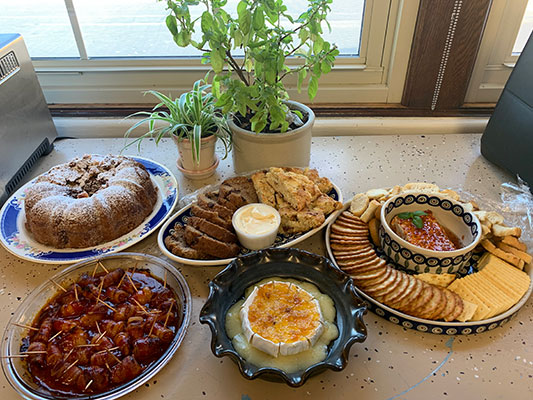 Oct. 18-22, 2021 is New York State School Boards Recognition Week, and when Fort Plain's Board of Education met on Oct. 20, the students in Cory Cooley's Cheap Eats – Eating on a Dime class made sure they were properly honored.
The high school class prepared a spread of affordable yet tasty food for the Board and presented them with a combination thank you message and menu that read:
"In recognition of all your efforts and dedication to the students, staff and community of Fort Plain, we thank you and welcome you to celebrate with a few bits of delish! Thank you for allowing us the opportunity to show you just what we can do with a little time, some creative thinking and a budget.
The principle premise for our class is to make our food dollars stretch, while minimizing waste, maximizing resources, and eating delicious and minimally processed food. The items that you are sampling today are the combined efforts of donated items, grocery sales and comparison shopping.
On behalf of Cheap Eats,
THANK YOU & ENJOY!
Amber Hayes, Amber Dillenbeck, Lauranne Chambers, Kerri Johnson, Jaden Hillsgrove, Michael Harris, Tyson Nichols, Kaitlyn Dodson, Cameron Kaye, Tyler Mykel
MENU ITEMS
Pepper jelly cream cheese with crackers – Cost: $2.97
-Students made pepper jelly with donated Jalapenos from a colleague.
Warm Autumn Brie with Apricot and Jalapeno Salt Cost: $4.23
– Students dried Jalapenos in the air fryer and made a seasoning salt for the Brie.
Zucchini Chocolate Chip Bread  – Cost: $1.93
-Students processed donated zucchini from MANY sources and froze it for later use.
Apple and Walnut Coffee Cake – Cost: $5.42
-Students processed donated apples and took advantage of sale items.
Apple and Bacon Scones –  Cost: $4.50
-Students processed apples, took advantage of sale items and used what we had on hand.
Sweet and Sticky Bacon Roll Ups – Cost: $6.37
-Students took advantage of sale items to come up with a reasonable and tasty treat.
TOTAL: $25.43″
According to their Cheap Eats – Eating on a Dime teacher, "Students are painfully aware that food budgets are the first expense to be cut short when everyday expenses and emergency expenses crop up. The problem . . . the need to feed your family doesn't change," said Cooley.
"With convenience and highly processed foods swamping the market, it is imperative that students learn the skills to not only manage their food dollars, but learn skills to avoid nutrition pitfalls and cook easy and nutritious meals."
Cooley added, "This experience starts our holiday 'entertaining on a dime' units. With the holidays and festivities approaching and all the supply chain shortages and hold-ups, we are taking what we have in stock, what we have processed from the fall harvests, and what is available, and making our food dollars stretch."
What's next for the class? Pot Luck Party Planning on a Budget, Thanksgiving leftovers make for great meals . . . soup to stew and beyond, a cookie exchange and appetizer swap from scratch, Game On! (game dinners for a crowd) and more.