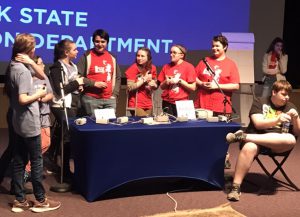 Both the Jr./Sr. High Battle of the Books teams traveled to Albany on April 11th for regional and state competition.
To participate, students on the team had to read books from a pre-set list and be prepared to answer questions about the books. Each region held its own competition in the morning, with the state finals between the North Region and South Region taking place after lunch. While teams were in between competitions, they had an opportunity to take a building tour of the New York State Museum and Archives. While touring, they met several people from many key areas of the museum, learning about history, exhibit, and archive jobs and what type of education and experience are needed for each career. It was an excellent chance for students to see "behind-the-scenes" of the large museum, and find out what it takes to bring all of the essential facts and exhibits to the public. Following the final competition, all of the students enjoyed an author talk by Jennifer Roy.
Members of this year's Senior High team included: Sherry Huang, Quinn Jones, Bryce Thibodeau, Pat Murphy, Cara Porter, Kevin Staples, and Caleb Cochran. Junior High team members were: Marionna Stephens, Delana Tracki, Sadie Mollel, Nura Handy, Natalie Thibodeau, Luke Staples, Rob Rogers, Amber Chrisman, Brady Keane, Monika Kulczynski, Ian Zuppardi, and Mariah Aney.