Elementary Honor Society inducts 10
Harry Hoag Elementary proudly inducted 10 new members into the Harry Hoag Chapter of the National Elementary Honor Society in a special ceremony for family and friends on Tuesday, June 5.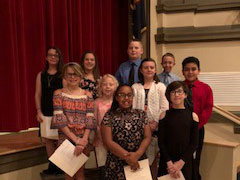 Inducted were fifth graders Zachary Briggs, James Douglas, Kaylie Field, Hannah French, Andan Gomez, Ashlynn Hart, Serenity Johnson, Payton Landry, Jasmine Lapi, and Nevaeh Rivers.
Ian Zuppardi called the meeting to order. Arianna Souza led the Pledge of Allegiance. Harry Hoag Principal Lauren Crisman welcomed everyone.
Four members led the candle lighting ceremony, which reminds everyone of the core values of Honor Society. Emily Palmeri lit the Candle of Scholarship, representing high academic achievement and integrity. Arianna Souza lit the Candle of Leadership, representing leading by example in all areas of life. Brady Keane lit the Candle of Service, representing caring through selfless acts that school and community. Vandwane Tulabing lit the Candle of Responsibility, representing enthusiasm and hard work in school and life.
Mason Cook, Mrs. Crisman and advisers Amanda Souzaand Kathleen Jordan awarded certificates to the inductees. Austin VanGorder led the group in the National Elementary Honor Society Pledge.
The evening closed with photos and refreshments.